Common Office Policies
Prior to the initial appointment, it is essential that the parents of our patients be familiar with the following policies. We retain an exceptionally long and successful history in pediatric dentistry. Time and experience has taught us what works for the vast majority of children and what does not. Our policies have evolved over more than a decade of treating pediatric dental patients, and we feel that these policies are the result of many thousands of hours of business office service, as well as having seen many tens of thousands of successfully treated dental patients.
We are happy to discuss and clarify any of our policies at any time.
All NEW patients must begin the first visit with a cleaning and exam

(unless younger than 3 yrs.)

The American Academy of Pediatric Dentists, and the American Academy of Pediatricians now recommend that dental visits begin as soon as a child gets their first tooth. Children under 3 typically are invited to see Dr. Lisa on what we refer to as a "quick look." This is an exam where the child and the parent are present one on one with Dr. Lisa. For children older than 3 years, we are typically able to do the necessary dental cleaning appointment. For all patients coming from other practices, and older children, it is paramount to the success of your child as a patient to begin with a cleaning and exam. It is vital for Dr. Lisa to have a chance to evaluate the causes, problems, behavior, and temperament that may be present, before fillings, crowns, and other procedures are scheduled. Doing so allows us to custom tailor a treatment plan for each individual. In the past, we would attempt to treat a patient without an exam and cleaning, and we learned in time that this was not in the best interest of the child. From treatment plans that differed, to variation in proposed solutions, to individual needs of the child that could not be ascertained by any other way than to physically look in the child's mouth prior to treatment, the list of reasons for this policy is very long and detailed. An exam and cleaning allows Dr. Lisa, the child, the parents, and the staff to all be on the same page right from day one.

We schedule patients under the age of 5 in the mornings, long before they have a chance to get tired.



Our experience has shown us that even the best child can have a hard time with his appointment if it is scheduled before lunch and nap time. Even though your child may not take a nap, we have found that the dental experience is far easier for the child before lunch time, especially for restorative visits.

At all cleaning visits, we perform the following:

Exam, X-rays, Fluoride Treatment, and cleaning.

Cancellation:

Although there is no financial penalty at this time, we ask that if you must cancel an appointment, please cancel at least 24 hours in advance.

Dr. Lisa's policy of never double booking patients works best for everyone if we have prior notice of an "empty spot," as occasionally we are able to pull from a list of a few patients that need to be worked in for semi-urgent procedures. Of course any true dental emergency will be addressed by Dr. Lisa 24 hour a day, 7 days a week.

Confirmation calls

are made and post cards are sent out prior to return visits as a courtesy reminder. Please mark your appointment on your calendar "just in case."
Insurance: We file dental insurance as a courtesy; anything insurance does not pay is patient responsibility.

You will receive a detailed explanation of our Dental Insurance policies, , which requires a parent signature, at your child's initial visit. In short, the form basically states that insurance is filed as a courtesy, but that any unpaid balance that remains is the patient's responsibility. We file to hundreds of dental insurance companies; therefore, we cannot possibly know your specific dental benefits (what is and is not covered and how much will be paid by the insurance company.) It is the responsibility of the parent to call the insurance company before any procedures are performed where dental insurance coverage is an issue. We typically do not collect any payment at cleaning appointments. Only an estimated portion of the patient responsibility is collected at restorative appointments.

Please arrive on time. We ALWAYS run on time, you will not wait.



Dr. Lisa believes that YOUR time is equally as valuable as HER time. Another reason for not double booking (scheduling two patients on one slot) is that she doesn't want to over book the day and cause patients, staff, children, and her own family at home, to have to wait countless minutes or hours needlessly. It is understandable that traffic, car trouble, flat tire, or school delays can cause a patient to be late. Parents are required to wait in the reception area during all appointments. Children do much better if they only have one person to listen to during their appointment. This saves you the parent and the next parent after you, a lot of personal time. Please plan ahead. Any patient that is more than 10 minutes late can possibly be asked to reschedule in order to keep the day on time. Yes, it is very hard to believe, but we really do run on time, always. Yes, we are OFTEN told by our patients that we are the ONLY healthcare practice in the world that does this.

New patients please arrive 15 minutes early to complete necessary paperwork.

We do not allow the child to be left alone or "dropped off" at the dental office for treatment. This includes patients that are 16 and able to drive themselves to the office.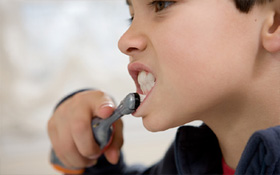 Quick Links